Cooking Experience
COOKING EXPERIENCE
Resident Chef at the Vista Farmers Market, Wellness Event
May 2016 to Present
The Wellness Event is a monthly event at the Vista Farmers Market. "The oldest farmers market in San Diego County". Select in season items from vendors and prepare lovely dishes for passersby to inspire their next meal
Personal Chef
July 2015 to Present
Various Clients – Weekly preparation of breakfast smoothies, daily lunches, healthy afternoon snacks and or dinners.
In Home Cooking Demonstration Parties
2009 to Present
Various Clients/Venus – For cooking demonstration clients, it is always great fun to have a party where everyone learns a bit about the foods they are eating be it a recipe, the cooking methods, the history associated to it or the way to grow it sustainability in their own yards! Also, one person goes home with a Red Plate
San Diego Botanic Garden, Herb Festival
Yearly From 03/09 to Present
Demonstration Chef - as a former chemist & wandering chef, explain & show the science of your kitchen.
2009 - Eggs Florentine and Rosemary Potatoes
2010 – Pick A Dilly Gravlax Recipe
2011 – Horseradish in Cold Pressed Roast Beef Sandwiches and Julienned Vegetable Salad with Creamy Horseradish Dressing
2012 - Rose Petal Pesto Pasta
2013 – Waffles with Elderberry Syrup

2014 - Salad topped with Tarragon Salad Dressing

2015 - Summer Savory Herb Mushroom Soufflé Pie

San Diego Botanic Garden, Gala Volunteer Hospitality
Yearly from 2009 to 2015
Plan, prepare and serve the food for the Volunteers at the Annual Gala Fundraiser for SDBG


San Diego Botanic Garden, Gala Fundraiser Contribution
Yearly from 2011 to 2015
2011, 2012, and 2014 - Auction Item - Authentic mixed Paella spread complete with Sangria, Tapas (Spicy Butter Almonds, Ajillo Mushrooms, and Spinach with Chickpeas), Dinner Salad with Oranges, and Flan prepared for six people
2013 and 2015 Auction Item – Afternoon Tea - Rose Petal Tea, Rose Guava Soup, Mini Dill Soufle Pies, and Lavender White Chocolate Chip Tea Cookies prepared for six people

Weidner's Gardens
Yearly from 2013 to 2015
Demonstration Chef at Annual Vegetable & Herb Festival, a two day event
2013
Saturday - Spring is just around the corner and the flowers and herbs are in bloom. Come join us to find out how you can use lavender to add flavor to your dinner and why it helps you sleep better after that meal. A traditional and gluten free Lavender-Lemon Salmon Risotto will be demonstrated.
Sunday - In this award winning salad, we will use the Native American Three Sisters beans, corn and pumpkin seeds, to get a large portion of protein. With the addition of Incan grain Quinoa (keen-wah), this salad satisfies a hungry appetite while provided all of the essential amino acid for complete protein. This dish is vegan and gluten free.

2014
Saturday - Have you ever made a salad that was a meal in a bowl and the only thing it needed was a slice of good bread and a glass of wine? Come celebrate a Meal-In-A-Bowl Tuna Salad with Tarragon Dressing, the Herb of 2014

Sunday - The word "chocolate" comes from the Aztec word xocolatl, meaning "bitter water." To pronounce it, the x sounds like an h, ho-co-LAH-tl. As chocolate works on brain chemistry and believing it to be an aphrodisiac, the Aztec king purportedly drank 50 goblets of the bitter drink made of pounded cocoa beans, chiles and water daily. In this recipe, Xocolatl Bars, we will use a secret ingredient to make them extra moist

2015
Saturday - Lovely Lavender Lima Bean White Chocolate Chip Bars - As an herb, lavender has been in documented use for over 2,500 years. In ancient times lavender was used from mummification to perfumes by the Egyptians, Phoenicians, and peoples of Arabia. In the Middle Ages, it was use to clean and disinfect homes. Now, it has a multitude of uses including adding flavor to an award wining bar.

Alta Vista Gardens, Vista, California
Monthly from 01/09 to 12/12
Demonstration Chef – Classes held on the fourth Saturday of the month with menus such as
- Ten Tasty Sourdough Recipes – From sourdough starter to bread to pizza to bread pudding – this class covers the process from start to desert
- Rose Petal Cooking Class - A Rose by any other name, would it taste as sweet? The Herb of the Year for 2012 is the Rose. Come taste how Roses add a wonderful flavor to any meal such as Linguine and Rose Petal Pesto, Rose Petal Tea, and Rose Hip Nut Bread.
- Chocolate for Dinner – Cacao can be used to flavor everything from mole to cake. Let's discover how the once Aztec delicacy that can lead to a state of euphoria and add more flavor to your meals. Zucchini-Cacao Absorption Pasta, Chocolate and Roses Salad, and White Chocolate Orange Cranberry Cookies.
- Paella, Tapas and Sangria-Paella is a dish traditionally cooked by men over an open fire. Come hear the history of this dish and the accompanying Tapas and Sangria
- Creative Gluten Free Crepes - In France, crepes can be served for all meals and every occasion. A San Diego Native American groat, buckwheat, will be used to make a delicious crepe that will be stuffed with savory or sweet foods.
San Dieguito Heritage Museum
09/09 to Present
Lima Bean Cook Off Participant – Award winning recipes:
| | |
| --- | --- |
| Peruvian Blue Potato Salad | 2009 |
| Incan Quinoa Lima Bean Salad | 2010 |
| Xocolatl Bars | 2013 |
| Lovely Lima Bean Lavender White Chocolate Chip Bars | 2014 |
| Lemony Lima Bean Poppy Seed Cake | 2015 |
| Pick-A-Dilly Meal-In-A-Bowl Salad and Xocolatl Cake | 2016 |
Lima Bean Cookbook – Co-writer/Developer Yearly since 2011 to Present
Orange County Herb Society
Yearly Presentations Since 2009
Host one cooking demonstration per year for this group of women who spread the dynamic uses of herbs put here for eating and medicine
St. Germain's Bistro Café
10/10
Culinary consulting for menu – At the request of the owner, menu was reviewed and flavor suggestions made for updated menu
A Rose by any other name, would it taste as sweet? The Herb of the Year for 2012 was the Rose. Particpans tasted how Roses added a wonderful flavor to any meal-Linguine and Rose Petal Pesto, Rose Petal Tea, and Rose Hip Nut Bread Recipes: Traditional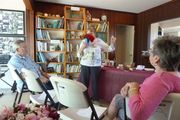 Educations & Licenses
Education
Associate Arts Degree in General Studies PALOMAR COMMUNITY COLLEGE San Marcos, California - 09-80 to 06-83
Bachelor of Arts Degree in Chemistry - Course Work – SAN DIEGO STATE UNIVERSITY San Diego, California - 09-83 to 08-87

Culinary Arts Certificate Program – VISTA ADULT EDUCATION

Vista, California – 1-14 to 4-14
License

Catering License, San Diego County, 06-16
Manager Food Handler's License, County of San Diego, Department of Environmental Health San Diego, California – 1-20-14 to 1-20-19

Business License, City of Vista

Facebook
LinkedIn Page